If you watched Avengers: Endgame in a movie theater, you must have felt a sudden rush of energy in the audience when Thor, with one swing of Stormbreaker, takes Thanos' own suggestion "to go for the head" and chops it right off!
Wasn't that amazing?
The same thing happens when you are watching a sports event in a full stadium. If you follow cricket, I am talking about the sort of moments when Bumrah slammed 35 off Stuart Broad in a single over – making it the most expensive over in test cricket history.
It's one thing to watch an exciting movie or a sports match alone but watching it with your friends or even a crowd full of strangers is an entirely different experience.
Unfortunately we don't always have people around to share our excitement with while watching a video on YouTube or a movie on Netflix.
Well, worry not, because Meta has been thinking of software features that could let us have such moments even when watching videos alone.
Social interaction on video segments
Earlier this year, Meta obtained a patent that allows improved social interaction on video segments.
Currently, we can comment on videos, which lets us relate to the past viewers about whether they liked it or not and to what extent.
These comments don't relate to a particular part of the video, though. I have seen people resorting to including certain timestamp in their comments (e.g. "at 3:25 you see the monster") when they want to talk about a part of it, but it's cumbersome and suboptimal.
Let's see how Meta is solving this issue.
Meta's servers will access the video and predict noteworthy portions (exceptional scenes) in it, based on engagement of past viewers. These sections will then be presented as "highlights."
BTW, did you notice that Youtube has also recently started showing a graph of most re-played sections on their videos:
A program, working in a feedback loop will predict the highlights in a video, until the noteworthy score is above a threshold limit. The highlights part will then be converted to a GIF, a short video, or a static image.
How will it look like in real life?
The figures included in the patent give a glimpse into how this might be implemented in real life:
Following that, you will be able to respond to, comment on, and share these highlights with your friends and other viewers. These highlights can thus act as a promotion for the original video, making it spread faster and help the creators garner more views in less time.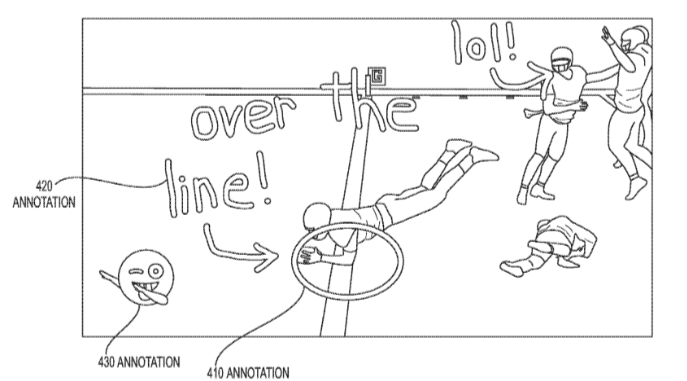 I think that this feature would certainly improve the experience of watching sports matches. I will certainly like to cheer for my favorite player and react to moments that excited me the most. Not only will I be able to share my excitement with my friends this way, but also will be able to recall my reactions to those moments in future.
Meta already has multiple social media platforms (Facebook & Instagram) to implement this feature. Meta seems to understand pretty well that continuous innovations are critical for maintaining its existing user base and attracting new users to its platforms.
Subscribe to learn more about such innovations.
P.S. Cover Photo by Georgia de Lotz on Unsplash